Hello, how is everyone today? Fit and well and enjoying the summer, or winter (depending on where you are), I hope.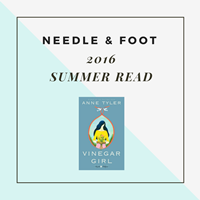 First thing is have you noticed ai have a new button on my sidebar? Bernie from Needle and Foot is doing a 2016 Summer Read, and the chosen book is Vinegar Girl. I am number 3 on the list and can't wait for my turn. To make it interesting when you pass the book along you write a comment inside for Bernie and pass it on with three fat quarters of fabric which relates to the book in some way, fun or what?
The second thing is I have come across a very new blogger, when I say new I mean this week new! It is only months since I started and I remember the thrill of someone I didn't know finding means leaving a comment. It would be lovely to pop along and say hello, her name is
Vannie
.
I have so little to show you this week it's embarrassing. All I have done is circles, only six left to do, I'm sure you don't want to see those again.
I can show you my new fabrics though, how do you like these babies? Well, yes I could find fabrics i LIKED, there were some new linen look ones just come in, beautiful colours, but not for Cheryl's mystery quilt, at least not what is in my head, there again I never find what is in my head. Usually I go for something, then change my mind as other fabrics jump out at me and beat me into submission. You see I like tone on tones best rather than heavily patterned fabrics, and yes, they had some, but the ones I likes the colour of were all directional, which I avoid like the plague most of the time. I know it is shocking BUT, I came away empty handed. My husband wanted to call the doctor but I have assured him I will be fine as soon as I buy fabric, in fact I may just have to go back and get some of those linen look ones, beautiful colours.
So that is it for today, sorry to disappoint, it's just the way it is.
On a good note I am going to
Higham Hall
for an embroidery weekend which is exciting, I'm dreaming of the homemade cakes and biscuits with the morning coffee and afternoon tea already.
Until next time
Smiles from
Kate
Linking up with